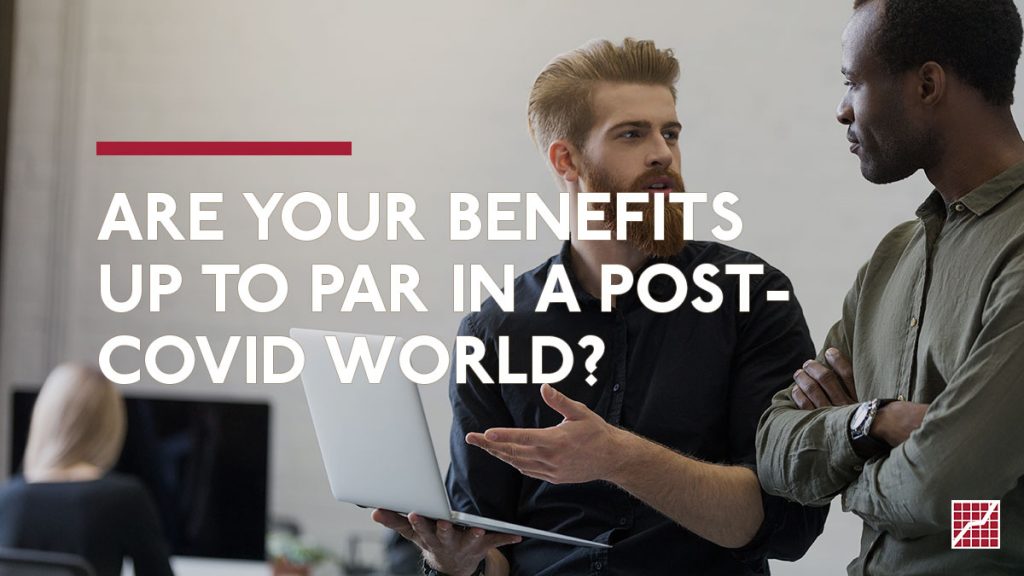 The pandemic has changed so much for employers. Just a year and a half ago, companies were grappling with adjusting to remote teams, securing PPP loans, and the uncertainty of so much in the business world. Now that we've got something close to a new normal, the demand for employers to build robust benefit packages is even more challenging given the difficult climate we have in attracting and attaining people. Employees are expecting more and employers are finding it difficult to deliver.
That's why we've put together our top suggestions for making sure your benefits hold up in a post-COVID world.
1. Benchmarking
Ask your Benefit broker to provide some tools to measure both your offerings and your cost-share strategy. The bar has risen and employees are expecting to get more and pay less. 
2. Benefit Packages
In prior years, companies slimmed down their benefits and increased their cost-share to employees. It's time to revisit both as competition for talent is at an all-time high. It won't be enough to offer basic health insurance. You need to make sure your benefit package includes dental, vision, disability, life, as well as robust pre-tax cafeteria plans for tax advantages.
3. Safety
At the forefront, employees want to understand their safety is put first. Not solely in regards to COVID protection. Many employees are reluctant to return to the office and need to feel that their employer is looking out for their safety and best interest to smooth over the transition.
4. Purposefulness
Employees are seeing work as much more than just a job. They want a community. They want a company that supports positive, proactive, and complimentary values to their own and consistently walks the walk and reinforces those values.
5. Remote work
Don't discount the comfort that most employees have come to know and love. This past year has shown employees that they can work and earn from anywhere. So no, remote work is not going away anytime soon. Workers are comfortable working at home and a lot of them would prefer to do so. Be sure to build options around this and give yourself the opportunity to evolve dynamically.
6. Reward and Recognize
And repeat it again and again and again. Employees expect to be recognized when they do good work and reviewed regularly . Don't be surprised to see younger employees seeking faster advancement and increased wages at a pace that most companies are just not prepared to address.
–
If you need help putting together a robust Post-COVID Benefit Package, we can help with that. Reach out to us at marketing@corpstrat.com.