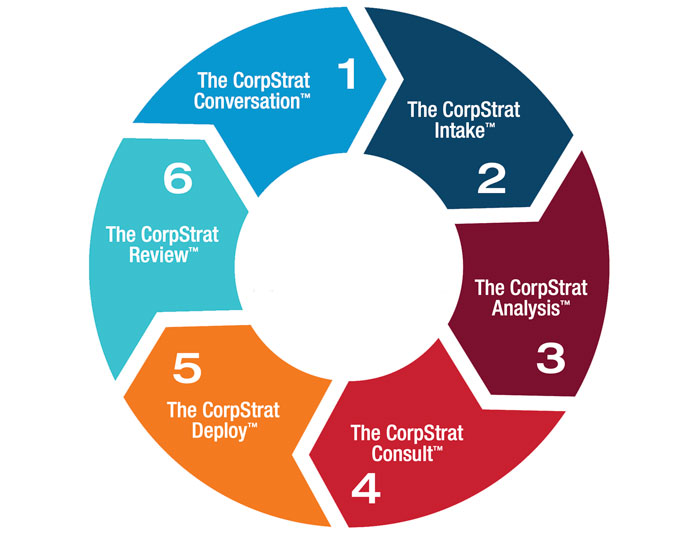 People often ask us, "What make CorpStrat different?"
At the heart of it, we work hard and we care about our clients. In today's fast moving world, people have little time to waste. They need fast reliable answers to their questions and need a team of advisors to make sure that their business is protected.
When you work with us, you're working with dedicated and experienced people, not bots or call centers. We're a team of real folks who value teamwork, put our clients' interests first, are passionate learners and dedicated to client service.
When people do business with us, here's a quick overview of what they can expect from the experience.
1. The CorpStrat Conversation™
When we begin working together, we'll start with what we call The CorpStrat Conversation™. This is a unique, forward thinking conversation that will help us uncover what is and what isn't working in your business. We zero in on what needs to be changed in order for you to best meet your goals. So many times these conversations are about so much more than Employee Benefits or Human Capital Management, it's our opportunity to set the foundation for a true partnership and advisory relationship.
2. The CorpStrat Intake™
During The CorpStrat Intake™, our veteran advisors work directly with your team to audit, review, and gather data. We go to great lengths to ensure that this process is as painless as possible.
3. The CorpStrat Analysis™
After getting the lay of the land, we draw from our experience and wisdom combined with our marketplace savvy to evaluate opportunities that benefit you.
4. The CorpStrat Consult™
Once we have a plan in place, we'll schedule The CorpStrat Consult™. During this, we'll discuss, review, and propose the best plan we have in mind for you that will put you on the best path for future success.
5. The CorpStrat Deploy™
Throughout this entire process, you're never alone. Even during the CorpStrat Deploy™, our team helps implement, execute and communicate strategic planning so you're never left in the lurch.
6. The CorpStrat Review™
The final step is The CorpStrat Review™. Even after we implement the strategy, we continue to actively stay involved to support and assure that your company's objectives are achieved.
–
Need help with Employee Benefits, Insurance, Payroll or Human Capital Management? We'd love to work with you. Let's talk.