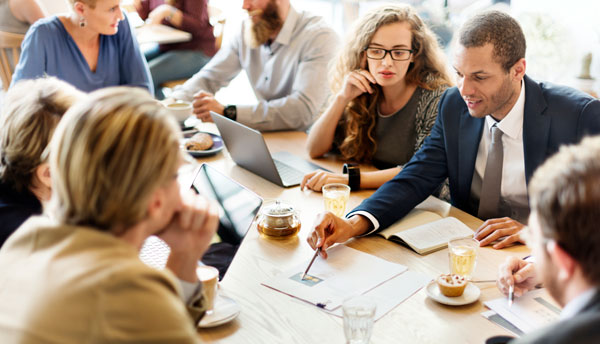 After over two years of working remotely, we know a lot of employers are grappling with if and how to bring their teams back into the office. They're faced with a barrage of questions: Should they bring employees back full time? Keep them remote? Should they offer set hybrid programs or let employees decide their own schedule? The risk of losing great employees by pushing them to return to the office looms large however, full-time remote work doesn't suit every business.
The answer is there is no right answer. It's almost impossible to establish a protocol that makes sense for everyone. The bottom line is companies have to get creative with how they balance safety, productivity, and culture as we begin returning to the office. We do think companies will likely employ various hybrid work iterations for the foreseeable future.
Here are our best ideas to help find balance between encouraging company culture while your team is remote and building rapport back in the office:
1. Give Employees Their Own Work Spaces.
Try rewarding employees with their own work spaces as opposed to the shared work spaces that are so popular nowadays. The pandemic has created all sorts of uncertainties about touching other people's stuff.
2. Offer up free lunches.
We know there's "no such thing as a free lunch" but we've seen companies have tremendous success when they offer their employees meals as a gesture of appreciation. Sending your remote employees a voucher for a food delivery app and an invitation to join a team Zoom hang out is a great way to allow your team to interact more casually. When your team is in the office, providing free lunches allows people to connect with each other. We've found that this desire for connection is greater than ever since the pandemic began.
3. Create Memorable Moments to Connect
Try and use culture building opportunities as frequently as possible. This is where employers can really get creative. Consider setting up both remote and in-person fun experiences like an Escape Room or a virtual Pub Quiz. Give away memorable gifts, company merchandise, or a welcome back to the office care package so employees feel that their experience is being valued.
4. Provide Gas Cards
Send gas gift cards to anyone who comes into the office on a regular basis. Gas is expensive right now so this is an easy win because it makes employees feel valued for their efforts.
5. Use Social Media to Show Off Company Culture
Make sure your employees are proud of the team that they're on and feel included. One way to do this is share notable team experiences on your public Social Media channels and in your internal team communications, like a Slack channel or team newsletter. You'll be able to show the community being built back up in the office and ease the minds of employees still on the fence about returning to the office.
–
Need help creating positive Company Culture? We can help with that.
Contact us.